RRTN Showcases Black Contributions to Science and Technology in Dakar, Senegal
In December 2010, The Robert R. Taylor Network @ MIT showcased an interactive multimedia display it created at the Third Senegal World Arts festival in the West African country.
The World Festival Exhibit on Black Contribution to Science and Technology highlighted the contribution of Africans and the African Diaspora from ancient civilizations to the present. The exhibit took participants  through a journey documenting how  people  of  African  descent  have always contributed to our understanding of the world around us and the advancement  of  civilization  through  scientific  discovery, technological innovation and invention. Black people have been part of the scientific community and continue to make significant contributions to the advancement of human knowledge and the global economy through invention and discovery for the betterment of mankind.
The exhibit began  with the contributions of early African Civilization during the BC era to mathematics, science, systems  and engineering, including present-day research from leading African research institutions.The exhibit then moved into an overview of contributions by black people to 10 key industries – Agriculture, Communications;  Computing;  Energy; Engineering and Materials;  Environment; Mathematics; Medicine and Health; National Security; Space Exploration; and Transportation.
There was a special tribute to the black pioneers in space.  The exhibit immersed festival-goers in a 25-column towering maze of pioneers of science from the AfricanDiaspora. A multimedia presentation of interviews and profiles of100 innovators engulfed the audience with the ideas young people have about science today: leaders in the fields of science and engineering, and the reality of the practioners. There was an engaging and interactivemultimedia timeline of black history in science and technology looking at inventions, inventors, and artists in the field with a linked Wiki-like encyclopedia. Individuals were able to add comments and content via their mobile phones, on-site computers and from anywhere with a web browser.
The exhibit was organized and curated by the RobertR. Taylor Network, Inc. at the Massachusetts Institute of Technology (MIT) in Cambridge, Massachusetts, USA in collaboration withProfessor Ahmadou Wague, University of Dakar, and CheikhM'backe Diop. To learn more about the exhibit, please visit www.adias.org
If you're interested in booking the exhibit, contact RRTN @ info@rrtn.org.
Blacks in Space Wall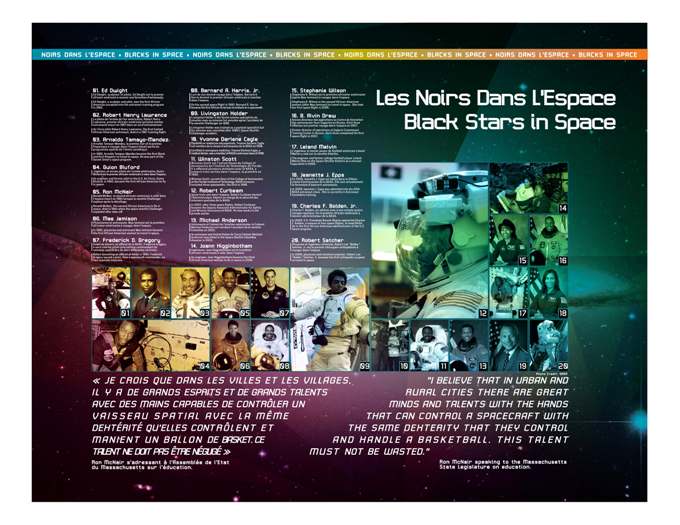 Graphic Artist's Rendering of RRTN Display at Senegal World Arts Festival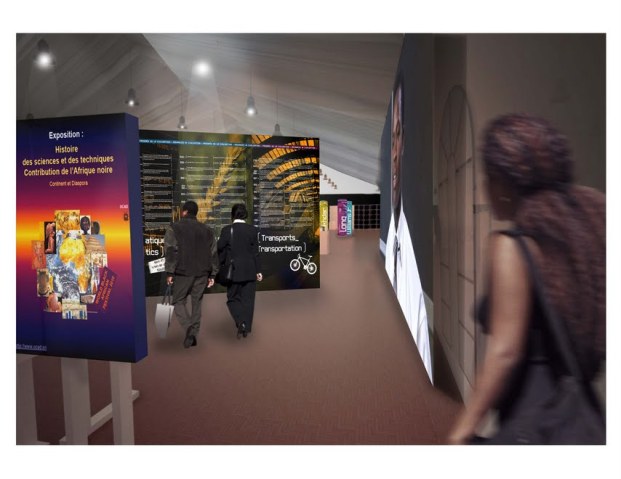 25 Profiles of Black Trailblazers in Science and Technology
See more RRTN photos from the Senegal World festival.