Why open source?
By choosing an open source product, the user obtains a number of advantages compared to commercial products. Besides the fact that open source is always available for free, it is a transparent application, in that you are invited exclusively behind the scenes to view all source code and thereby to suggest improvements to the product. Furthermore, every product is covered by a large dedicated network, or community, who is more than willing to answer any questions, you may have. (from Osalt.com/about)
As the leading resource for open source software development and distribution, SourceForge is dedicated to making open source projects successful and thrives on community collaboration. Using the tools provided on this platform, 2.7 million developers create powerful software in over 260,000 projects. Our popular directory connects more than 46 million consumers with these open source projects and serves more than 2,000,000 downloads a day. SourceForge is where open source happens.
SourceForge.net is owned and operated by Geeknet, Inc., a publicly traded US-based company.

EOS started its life offline as the Open Source Catalog in November 2006. They were surprised by the demand (over 10,000 downloads to date) and the positive response from both enterprises and the open source community. The demand for updates, additions and conversations quickly became overwhelming and we built EOS to take the endeavor online and provide a greater opportunity for enterprises to connect with the open source community.
EOS has been acquired by OSBF to provide a vendor-neutral and up-to-date directory of open source products as a valued and well-known open source competence center to enterprise users.

Welcome to osalt.com open source alternative – your quick guide to the best open source software.
Find open source alternatives to your favorite commercial products. Browse through our software categories and compare pros and cons of both commercial products as well as open source software.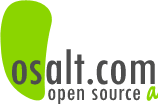 Moodle- Open Source Classroom suite***